It's back… Schomp MINI Sponsors Top Taco Fest 2022!

Denver's premier taco and tequila festival, Top Taco Festival, returned this year at Downtown Westminster's Center Park, and it was a real fiesta! This year's festival featured over 50 restaurants and more than 40 spirit brands competing for honors in Top Traditional Taco, Top Creative Tequila Cocktail, and more! See all of the winners here. Schomp MINI was excited to join DiningOut as one of the festival's 2022 sponsors.
What goes with unlimited tacos and tequila better than electrolytes?! At the Schomp MINI tent, we handed out party packs with chips and Salud hydration mix packets to ensure that guests stayed hydrated throughout their taco tasting journey. Plus, we gave away a free vehicle detail package to our lucky winner, Delma Gallardo.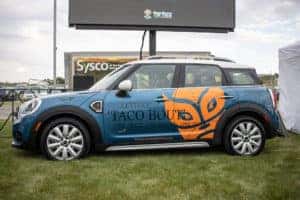 Schomp MINI loves having the opportunity to mingle with the larger Denver metro community – tasting endless tacos and tequila is fun too! 
Thank you to DiningOut for being an excellent partner and putting on these incredible events year after year! We'll see you next year!